The Orange Mountain Bike Club rides for Dr Steve Peterson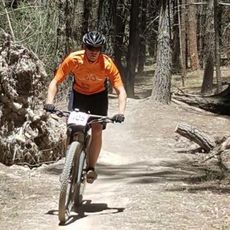 The Orange Mountain bike club is hosting a ride day to support Dr. Steve Peterson.  A few weeks ago, Steve was hit by a car while he was riding to his shift at the Orange Health Service. He was flown to the Royal North Shore Hospital where he is being treated for major spinal trauma at the C4 vertebrae as well as other serious injuries.
Steve and his wife Debby are both loved community members of Orange and have been heavily involved in the Orange Evangelical Church, the Orange Mountain Bike Club and other local community health programs. Steve has been on hand on more than one occasion to patch up injured riders and has often volunteered with the mountain bike club.
Steve is a tough and outgoing man who has always pushed himself to achieve anything he does be it professionally, athletically, or as a dedicated husband and father of two young boys. Steve is now facing one of the biggest challenges of his life. The accident has left Steve with no movement of his legs or arms.
With the support of his loving wife, family and the Orange community Steve will no doubt tackle this new challenge head-on.
On Saturday, April 14th, The Orange Mountain bike club and Orange community are holding a 12 Hour Challenge to support the Peterson family. The event is hoping to raise money and awareness for Project Edge.
Please show your support by making a donation.